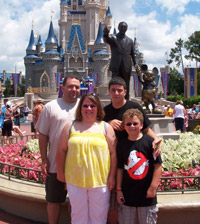 When you refer your friends, family, workmates, or neighbors to our agency for a free quote on their car, home, life, health, or business insurance you will receive one chance (for each person you refer to us for a free quote!) to win this DREAM VACATION with a $1000 value!! – No purchase is necessary.
Christe and Roy Casebolt were the grand prize winners of YOUR CHOICE VACATION for 2009… they enjoyed a trip to Disney World, Universal Studios + several days on the beach courtesy of our agency. Would you like an opportunity to win our 2010-2011 YOUR CHOICE VACATION?
*Void where prohibited by law.